Renewable Energy
Growth and Access
To achieve and exceed India's renewable energy targets, stronger policies, creative finance mechanisms, and clean energy access are all needed. NRDC India is working with partners to advance clean energy policies and jobs, develop finance solutions and enhance village energy access – which in turn improves lives for poor communities and fights climate change.
India Will Cut its Emission Intensity
by 33-35% of 2005 levels by 2030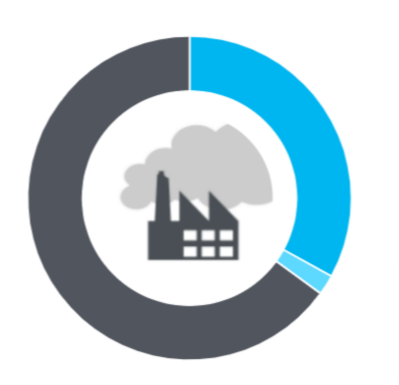 India's Installed RE Capacity (in Gigawatts) – Past, Present, and Future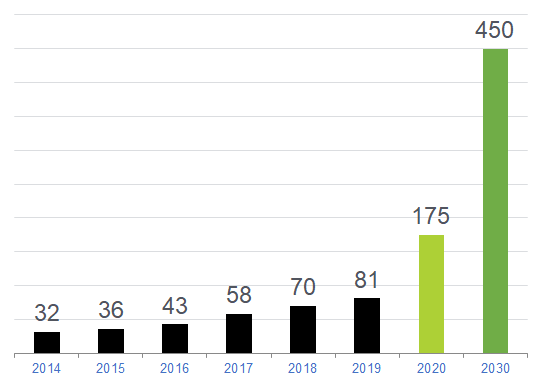 Following India's bold renewable energy targets announced at the Glasgow climate conference, the Ministry of New and Renewable Energy has released a policy framework for developing and advancing Decentralized Renewable Energy Livelihood Applications. Decentralized renewable energy is often produced closer to the point of consumption and built as small-scale projects benefitting rural communities that do not have reliable access to the electricity grid. Growth in decentralized renewables will lead to a robust diversified green electricity grid and is key to meeting India's non-fossil fuel electricity generation target of 500GW by 2030.
Renewable Energy Strategies
Partner with government, the private sector and grassroot organizations to scale our current clean energy and energy efficiency access programs to additional villages
Help develop clean energy jobs programs
Develop clean energy finance investment pathways with broad stakeholder support in India
Develop innovative financing mechanisms to leverage private capital targeting underserved and emerging markets
Integrate equitable clean energy access across issue areas including green buildings and electric mobility
Renewable Energy Publications
Prior to 2023, Indian experts worked as consultants with NRDC, and their work was thus hosted on NRDC's website
Our Experts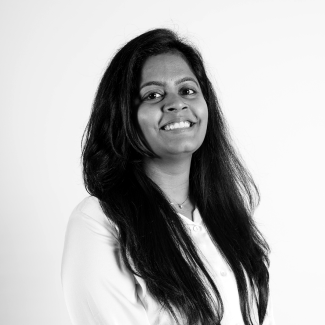 Akanksha leads the vertical on energy access at NRDC India focusing on issues related to energy security, climate policy, finance, and green jobs. With over 6 years of experience, Akanksha has worked on cross-sectoral issues of renewable energy, energy access, climate mitigation and adaptation. Prior to joining NRDC, Akanksha worked with the Shakti Sustainable Energy Foundation to design programs that facilitated distribution sector reforms and enhanced energy access in India. Akanksha has extensive experience in project management and execution involving policy & regulatory analysis, business model structuring, financial assessments, and stakeholder engagement in the climate change and sustainability domains. She is an avid researcher and has published in leading journals and digital magazines.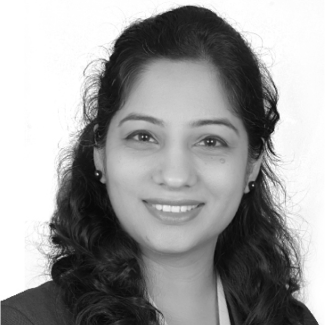 Electric Mobility and
Clean Energy Lead
Charu Lata is the electric vehicles and clean energy lead in India. She works at the national and state level to advance electric mobility policies and help in the implementation of the same. Her focus has been on addressing barriers to accelerate the deployment of charging infrastructure across Indian cities. Charu's work also focuses on improving access to clean and climate-friendly technologies in Indian villages with an aim to increase lives and livelihoods of rural households.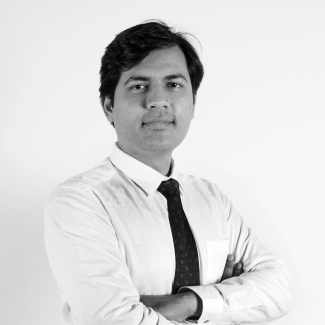 Energy Efficiency
and Cooling Manager
Ashish Jindal is the lead for the Natural Resources Defense Council's (NRDC) work on Energy Efficiency and Cooling in India. He is a sustainability and climate change professional with over 12 years of experience in the areas of energy efficiency, demand side management, demand response, electric mobility, Smart meters, Tri-generations, Renewables, Lighting, HVAC, and other Clean Energy Systems through large-scale implementation, policy, research, and consultancy assignments. He has worked at ADB, EESL, PwC, TERI and others on new clean energy interventions through research, policy advocacy, program design, financial modelling, technical frameworks, project preparation and business plan, roadmaps and implementation of national programs in India, South-East Asia and Middle-East region.