Cooling and
Energy Efficiency
With rising temperatures, increasing consumer power, and rapid urbanization, the demand for cooling is growing in Indian cities. To help meet these challenges, NRDC India is working to phase down HFCs, increase air conditioner efficiency, and promote cool roofs and green buildings for all.
Makeup of India's Cooling Demand (2038)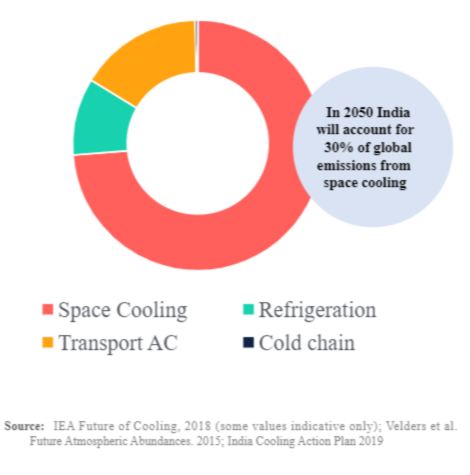 Opportunity for Countries to Avoid Emissions through More Efficient Cooling (MtCO2) in 2050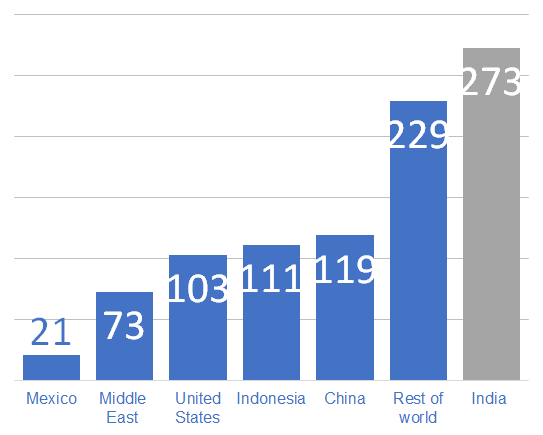 India has a long record of leadership under the Montreal Protocol, from their indispensable role in the negotiations that formed the Montreal Protocol in 1987 to, in 2016, forging a path forward on the Kigali Amendment. Since then, the Indian government has been an outspoken champion of enhancing energy efficiency in cooling, alongside the HFC phasedown. In 2019, India's Ministry of Environment, Forest, and Climate Change published a first-of-its-kind guiding document called the India Cooling Action Plan, which set several ambitious targets, including reducing refrigerant and cooling demand by about one-quarter in 2038.
Indian industry champions have also led the world, leapfrogging over HFCs as they phase out ozone-depleting substances. Today, nearly one-third of the room air conditioner sector, for example, is estimated to use climate-friendlier alternatives to HFCs, including refrigerants R32 and R290. The insulating foam industry has also succeeded in almost entirely avoiding use of HFCs.
Cooling & Efficiency Strategies
Conduct new analyses on HFC-phase down scenarios for India to support India's implementation of the Kigali Amendment & ICAP via engagement with ICAP Thematic Committee leadership, Indian government, and other stakeholders
Build the business case for energy efficient air conditioners through strong AC efficiency standards via outreach to stakeholders, integrating low-GWP and efficiency standards, and working with industry
Expand the scope of Heat Action Plans (HAPs) with cool roofs and regularly update temperature thresholds for early warning systems
Evaluate the impacts of building energy code compliance and demonstrate actual energy savings and strengthen compliance
Energy Efficiency Publications
Prior to 2023, Indian experts worked as consultants with NRDC, and their work was thus hosted on NRDC's website
Our Experts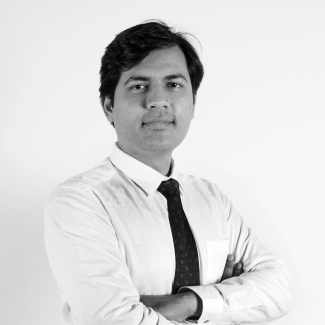 Cooling and
Energy Efficiency lead
Ashish Jindal is the lead for the Natural Resources Defense Council's (NRDC) work on Energy Efficiency and Cooling in India. He is a sustainability and climate change professional with over 12 years of experience in the areas of energy efficiency, demand side management, demand response, electric mobility, Smart meters, Tri-generations, Renewables, Lighting, HVAC, and other Clean Energy Systems through large-scale implementation, policy, research, and consultancy assignments. He has worked at ADB, EESL, PwC, TERI and others on new clean energy interventions through research, policy advocacy, program design, financial modelling, technical frameworks, project preparation and business plan, roadmaps and implementation of national programs in India, South-East Asia and Middle-East region.