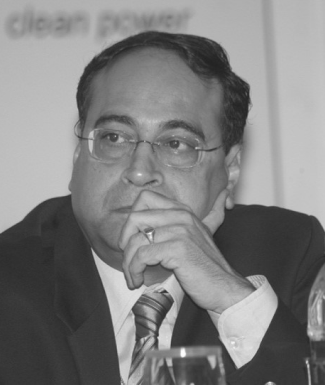 Gireesh Pradhan
Former Chairman
Central Electricity Regulatory Commission
Shri Pradhan, is the Former Chairman of the Central Electricity Regulatory Commission (CERC) and the Former Secretary of the Ministry of New and Renewable Energy. After his schooling in Jaipur at the St. Xavier's School, entered St. Stephen's College, Delhi for BA (Hons in History) and MA (History). After completion of his Master's degree, he started teaching at Delhi University in 1975. Later, he joined the State Bank group in 1976 and in 1977 qualified for the Indian Administrative Service and was allotted the Maharashtra cadre.
He served at the district level in a number of districts in Maharashtra, including Solapur, Kolhapur, Ratnagiri, Sindhudurg and Thane. Later he was Director Textiles, Nagpur and also served as Member of the Maharashtra State Electricity Board (MSEB). He worked as the Muncipal Commissioner of Pune Muncipal Corporation and Director General of the Civil Services Training Institute, YASHADA, Pune.
Shri Pradhan has done a number of assignments in the Government of India from the level of Under Secretary to that of Secretary. He has served in the Ministry of Food and Civil Supplies, Home Affairs, Power and Renewable Energy. Besides this he has also served as Pr. Secretary to the Speaker of the Lok Sabha and Joint Secretary to the President of India.
Shri Pradhan has had a vast experience of over 16 years in the power sector right from the state level in the MSEB to the CERC at the centre. He joined the Ministry of Power, Government of India, as Joint Secretary and then was promoted as Additional Secretary and Special Secretary. His last posting in the Government of India was as Secretary, New and Renewable Energy. Besides closely handling the areas of transmission, energy efficiency, climate change, planning and coordination, Shri Pradhan also served as Chairman of the Damodar Valley Corporation (DVC) gaining an insight into thermal and hydro issues. He has also been associated with the entire roll-out of the Electricity Act 2003 and contributed to the policies which followed in the wake of the Act. His contributions to energy efficiency, climate change negotiations, planning and reforms in the power sector are substantial. Similarly, the initiatives on the renewable energy started by Shri Pradhan are widely acknowledged. Shri Pradhan was selected and appointed as the Central Regulator for India as Chairman, CERC and served in that position for four and half years. In the year 2021 the Ministry of Power (Government of India) appointed him as Chairman of a High Powered Committee to suggest a draft "National Electricity Policy", which task he completed and which is presently under consideration of the Ministry of Power. Shri Pradhan also has a Masters in Public and Development Administration from Carleton University, Ottawa, has attended the prestigious National Defence College of India at New Delhi and was awarded an MSc degree in Strategic Studies.